Just as ChatGPT shook up the whole world in 2023, surely for digital marketers and analists analytics, 2023 was the year of Google Analytics 4. Google Analytics 4 is more than a simple upgrade. Google Analytics 4 is powered by a completely new engine that allows you to get much more out of this tool. Four powerful examples.
Since Google Analytics stopped data collection for Universal Analytics on July 1, 2023, Google Analytics 4 (GA4) is now the default. Eventually, Google will delete the data in the Universal Analytics (UA) properties and thus is no longer available.
So, the switch to GA4 was not voluntary. The reason, among others, is that Google is under pressure from regulators to comply with privacy laws, and there is data collected in UA that is not compliant. Therefore with GA4, Google wants to come clean.
Much has been written about the new interface, reports and functionalities of GA4 that are still missing or not yet working properly. Google certainly still has work to do here, but recently a lot of new functionalities has been added that show the power of GA4.
A major upgrade is the new data model behind GA4, this engine of GA4 creates multiple new opportunities to do deep analysis in GA4 itself, and to use the data as the start of your Marketing Data Hub. Ultimately, GA4 is good news.
Whereas the data model behind UA was focused on websites, with the ability to add other data here as well, the data model behind GA4 is a lot more mature and fits better in a world where consumers interact with your business through all sorts of touchpoints (events) that generate data, think: apps, connected devices (IoT), stores, etc.
Google Analytics 4 offers an out-of-the-box connection to Google BigQuery to export raw data. Also in the free version.
Furthermore, GA4 offers an out-of-the-box connection to Google BigQuery to export raw data (also in the free version). This means you can export daily, and intraday (near real-time) raw data (i.e. every hit, event, transaction, etc) to BigQuery. This connection was previously only possible for paying GA360 users and is now possible for all GA4 accounts.
A world of possibilities
From BigQuery, a world of possibilities opens up because you can combine, transform, analyze and activate data as you see fit via Google Cloud Platform. Consider also:
Building your own Marketing Data Hub

Data activation / share data also with (non-Google) channels like Meta, Programmatic, Email, website personalization, etc. ("Composable CDP")

Begin with Machine Learning by leveraging Vertex AI within the Google Cloud Platform infrastructure
Powerful applications
1: Keep performance monitoring retroactively intact
The first application serves as a fundamental, practical purpose that we believe every company should do. UA is disappearing, and so is the data in it. If you want to be able to look back over a long period of time and compare how the website is performing, it is important to export the data from Universal Analytics and merge it with the new data from GA4.
Companies will lose their historical data unless they export it before their UA profiles are deleted by Google. This can be done by creating an archive of .csv or .pdf files, however these formats makes it almost impossible to fully utilize the data and translate it into insights.
It is better to export the data from UA via the API to a BigQuery environment. Here the data remains available and it is possible to combine, analyze and visualize the data. This keeps the data available, extends the useability of Universal Analytics data and allows retrospective analysis.
Even better is to combine Universal Analytics and Google Analytics 4 data in BigQuery to build dashboards joining UA (history) and GA4 (present and future). This allows longer-term trends to be monitored.
Note, GA4 has different definitions so data will not always be 1-to-1 comparable. You can solve this by making a normalization in the data model between the UA and GA4 data.

Image: Merge GA4 and UA Data
2: Create your own Marketing Data Hub in BigQuery
As mentioned, GA4 offers a connection to Google BigQuery by default. This offers companies opportunities to take the first steps towards a Marketing Data Hub, in which the data from GA4 can be combined with data from the traditional data warehouse, marketing channels (such as SEA, SEO, Social, Email marketing), call centers, store data, external market and competition data, etc. Thereby, step by step building a central customer view combining all data points.
The applications, of your own Marketing Data Hub, are endless and can add a lot of value to any enterprise. Think of dashboards with combined data/insights, better customer value analysis, predicted customer values, comparisons with market trends and competitors.

Image: Marketing Data Hub in BigQuery
3: Advanced analysis leveraging Machine Learning using Vertex AI
Now, BigQuery opens the door to the Google Could Platform in which data can be actively monitored and analyzed through Machine Learning (or yes... AI).
For example, models are available for which you can discover trends and trend breaks in data relatively easily. In this way you can automatically monitor the health of all your marketing activities such as the trend in sales of products, visitors and the quality of visitors per channel, the performance of funnels, etc. Increases and decreases are noticed right away, and with setting up notifications, you are automatically notified.

Image: Anomaly detection via machine learning (Vertex AI)
Powerful models are also becoming available for forecasting, like; Media Mix Modeling (MMM), clustering customer segments or, for example, making dynamic product recommendations. However, it is essential to understand the dynamics well, these models can be a powerful tools to that can gather insights on a large scale and automate repeating analysis.
4: Real-time (intraday) GA4 exports can be used for marketing activation use cases
Besides the analysis side, the GA4 BigQuery setup also provides the ability to start activation on your data in your channels / Marketing Automation. On top of the Marketing Data Hub, it is possible to build your own headless or Composable CDP, in which the collected data and combined data (360º customer view) can be used to drive marketing channels.
For instance, you can segment out the most valuable customers from the past who have been inactive on your website for an extended period. Leveraging tools like Social advertising, Search, or email marketing can be used in reactivating them. Then, should these past valuable customers revisit your website, you can offer a personalized experience based on that same centralized view of the customer's history. Additionally, audiences created in GA4 can be reused in other channels (such as Facebook).
The intraday streaming data from GA4 allows direct (real-time) triggering, think of an abandoned shopping cart mail or banner, which can be adjusted in real time in the current session.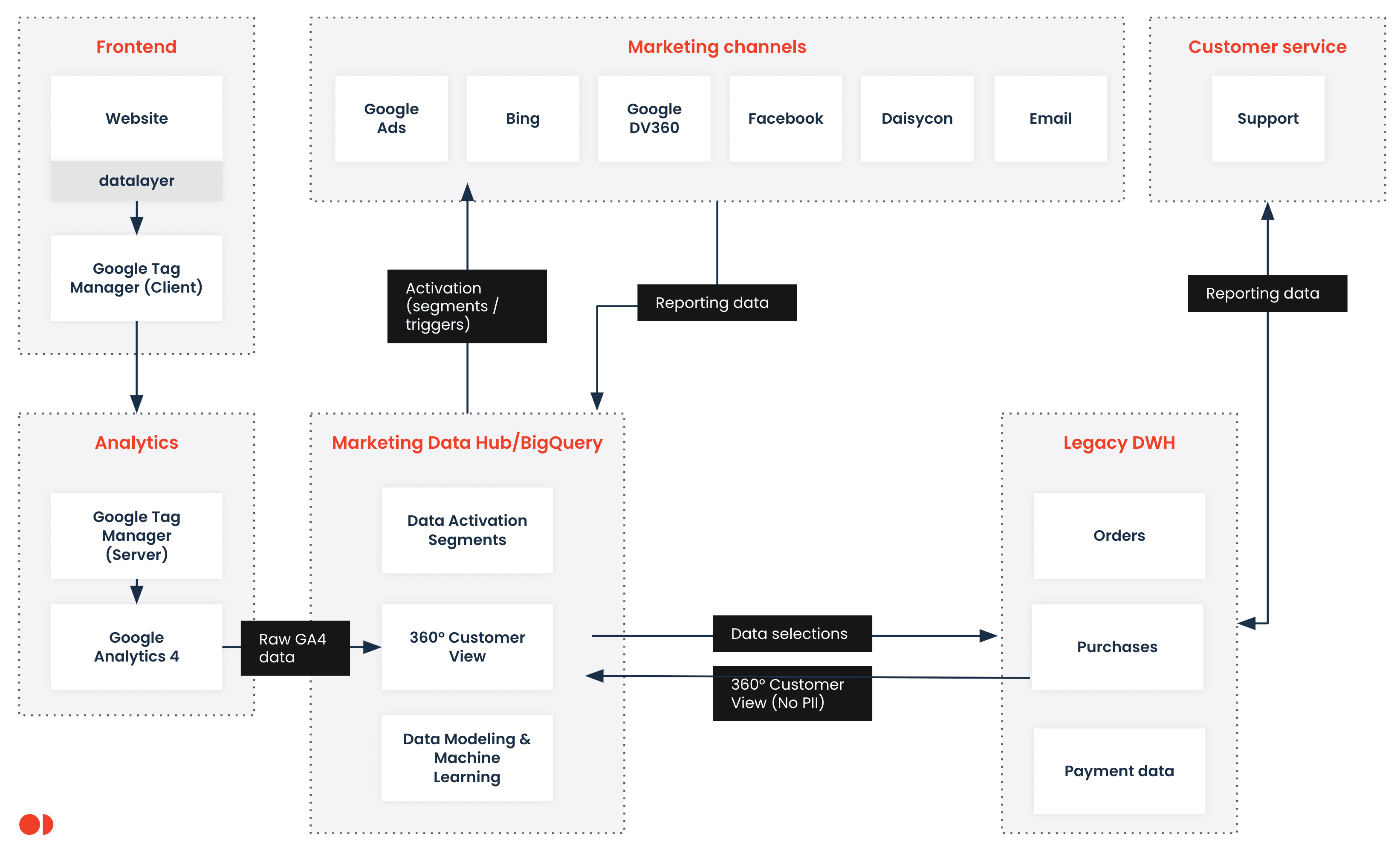 Image: Marketing Data Hub
The beginning of a new era..
Migrating to Google Analytics 4 (GA4) is a move that companies not only had to make by necessity, but too opens up a wide range of new possibilities and applications. From deeper analytics to the ability to build an entire Marketing Data Hub, GA4 is a tool for the future.
While GA4 certainly leaves a lot to be desired at the moment and functionalities can and will be added, the direction Google is taking with GA4 is one with many possibilities.
The era of GA4 is not only a new beginning, it is an opportunity for companies to take their data management and analysis to the next level. If you are not yet taking advantage of all the opportunities GA4 has to offer, it is time to do so now.