We become part of the team
We don't see ourselves as an external agency, but rather as part of the team. It's more efficient and simply the best way to get things done. Since we know the organization from the inside, we know exactly which buttons to push. Plus, we can identity which departments need to be linked together and whether we need to bring in additional skills.
We combine specialized knowledge with strategic insight. Pragmatic and goal-oriented
Successfully translating a business strategy into digital (marketing) objectives is ultimately a matter of smart organizing and tapping into the right knowledge. And that's what we do. Because we're not just thinkers, but above all, doers.
We have a toolbox full of tailor-made methodologies that we can use for every growth phase of the organization. Additionally, we bring in a lot of substantive knowledge that help to bring your plans into action.
Transforming is about organizing things in a smart way
Three stages of growth
To grow your business, you will face many challenges. You may think these challenges are unique, but nothing could be further from the truth. Companies and teams go through a number of fairly well-defined phases as they grow.
Each phase is characterized by its own challenges and initiators of growth. These challenges will require you to do things differently.
We help businesses in every phase by providing the tools, know-how, and organization needed to continue growing.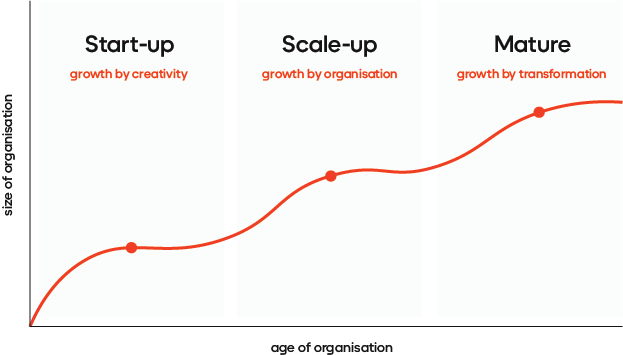 In the startup phase, Turntwo is a partner who will co-entrepreneur with you. We pragmatically build an A-class strategy in the areas of marketing, organization, data, and technology, which will yield immediate results while laying the foundation for all future phases.
We can execute this strategy with your team (internal implementation) or find suitable partner(s) to execute it. By separating strategy and execution, there is no dependency on external partners, and you keep control in your own hands.
Together we create and implement a well-founded e-business and marketing strategy.
In good company
In this phase, we help you prepare your organization or team for further growth by making it more robust and scalable. We provide a cohesive package that is both substantively and organizationally sound for your organization and the phase it is in.
In addition to shaping the strategy, we help establish a robust e-business organizational strategy. We create a blueprint for your organization with a good team structure, the necessary roles and responsibilities, rhythm and priorities, crystal-clear KPIs, and the dashboards to track them.
We also ensure an efficient and effective meeting rhythm and quarterly priorities to ensure that the most important strategic issues are actually executed.
We help establish a robust e-business organizational strategy.
In good company
Mature companies are often structured to perform optimally within the current market and therefore perform optimally under constant market conditions. However, we live in an era of rapid change, where technological advancements are happening at an accelerated pace. With customers demanding ever-higher levels of service.
To keep up with these changes, processes must be agile and adaptable. It is crucial for market leaders to create collaboration between multiple teams, departments, and/or countries.
We help mature organizations to continue developing around their customers and thus remaining relevant. Additionally, we can help with a corporate start-up or spin-out.
Turntwo has experience with multiple growth, innovation, and collaboration models to transform your business.
In good company